The best sort of worker is the cheapest worker. The one that has the least needs. What young Rossum invented was a worker with the least needs possible. He had to make him simpler. He threw out everything that wasn't of direct use in his work, that's to say, he threw out the man and put in the robot. Miss Glory, robots are not people. They are mechanically much better than we are, they have an amazing ability to understand things, but they don't have a soul.
- Karel Čapek, R.U.R.: Rossum's Universal Robots
Follow us on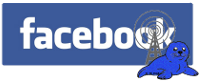 File robot/303.xhtml has not been found!